The Best Dumpster Rental Plainview TX Has to Offer
Finding the best dumpster rental Plainview TX has to offer can be difficult, but with our team of professional and friendly experts at 806 Waste Management, it's a seamless and easy process! Our mission is to provide high-quality containers and handle the heavy lifting so you can focus on the project at hand. Let us handle the waste while you work on the residential, commercial, or construction task at hand. Our various sizes of dumpsters ensure that you find the perfect fit to help complete your next project in a timely, convenient, and affordable way.

With our staff of knowledgeable and helpful container experts, you can be certain that your dumpster rental Plainview TX trusts will be delivered on time and ready to go. We offer a convenient online ordering system that is easy for anyone to use from the comfort of their home or while on the go. Renting a dumpster in Plainview, Texas, and surrounding areas of Hale County has never been easier! View our online selection and reserve your rental today to get started on your project with the added support of our skillful team.

Our dedicated customer service is here and ready to help make sure your dumpster rental Plainview TX relies on a smooth and straightforward process from start to finish. We've made a name for ourselves by prioritizing customer satisfaction and doing everything we can to exceed expectations with competitive prices and on-time delivery. We take pride in knowing that our customers will always be properly taken care of. From sizing questions to what materials our dumpsters can take, you can count on us to help you figure it all out. If you are searching for a "dumpster rental near me", know that you can count on us to help you get the job done right the first time. Book your container online today!
Included Tonnage
2 Included
Dimensions
16' L x 7.5' W x 4.5' H
Additional Days
:
$5 Per Additional Day
Extra Weight
:
$45 Per Additional Ton
Included Tonnage
2 Included
Dimensions
14' L x 7.5' W x 6' H
Additional Days
:
$5 Per Additional Day
Extra Weight
:
$45 Per Additional Ton
Various Uses for Our High-Quality Plainview Dumpster Rental

We are the top choice for a Plainview dumpster rental for all Terry County residents, business owners, and contractors because our dumpsters can be used for any project you can think of. Our high-quality containers are built to handle just about anything you throw in them. Whether you have a small attic cleanout or a large construction site to handle, we're confident we have the perfect roll off that can get the job done.

One of the reasons customers choose us for their Plainview dumpster rental is because they know we haul and dispose of waste responsibly. Keeping our communities clean and waste-free is one of our top priorities. We regularly partner with the City of Plainview Landfill to ensure all waste hauling abides by city, county, and state regulations. When you choose 806 Waste Removal to handle your waste, you're choosing a company that cares about keeping our city clean. We are the #1 choice for a dumpster rental near Plainview TX and we have the 5-star reviews to back that up. Give us a call at (806) 778-1311 or book your dumpster rental online today!

Residential Plainview TX Dumpster Rental Homeowners Can Trust

We regularly rent out our residential roll offs for garage, attic, or basement cleanouts, furniture or appliance removal, downsizing, estate sale preparation, roofing repairs, single-room renovations, and so much more. Our dumpsters are made to handle heavy-duty materials which means your job is made easy. Whether it's yard waste or bulky large materials from a renovation project, our dumpsters can handle it. Our homes are a special part of our lives and they need to be taken care of. Don't let the clutter pile up in your garage or attic. Call us today to get your residential dumpster rental Plainview TX homeowners trust scheduled so you can de-clutter and clean out today!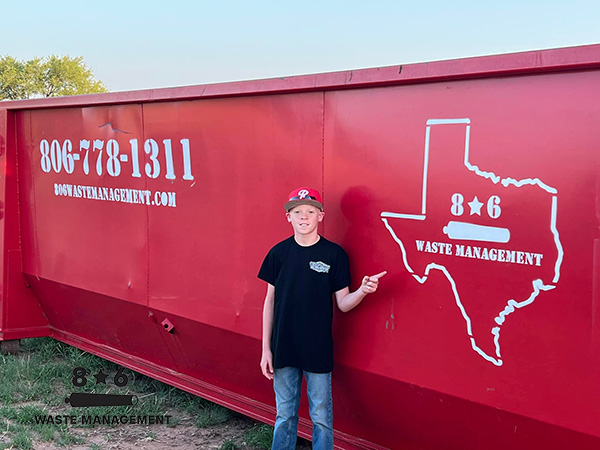 When it comes to a Plainview TX dumpster rental, residents know they can trust us to take care of their next home project. It's time to stop putting off that home renovation, repair, or improvement you've been wanting to do because you don't know what to do with the waste. Disposing of waste is easy when you rent a roll off dumpster resident rental Plainview TX from a reliable company.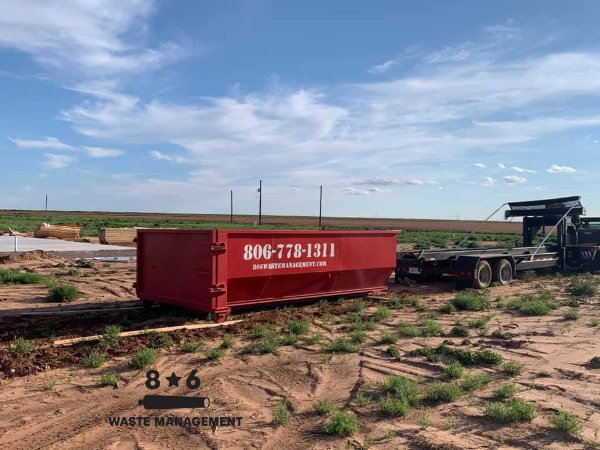 Plainview Roll Off Dumpster Rentals for Yard Waste

If it's time for your next yard project, consider choosing 806 Waste Management for your Plainview roll off dumpster rentals to clear the debris in no time. We are Terry County residents' go-to choice for all yard waste management needs. Yard cleanup tends to get put on the back burner and then the waste begins to pile up. Before you get stuck wondering where to put it all, consider renting one of our yard waste roll off containers for the job.

Our Plainview roll off dumpster rentals can handle any yard project you may have. Whether you're cleaning up the brush after a storm or renovating your back patio, our dumpsters can handle the job. When it comes to landscaping and outdoor projects, our traditional residential bins don't typically have the space or quality to handle these materials. When you're in a bind and need to dispose of your yard waste, give us a call and we will take care of it in no time!

Construction Roll Off Dumpster Rental Plainview TX Contractors Rely On

Construction sites need a roll off dumpster rental Plainview TX can count on, which is why they choose us for the job. We know you might be looking for cheap dumpster rental Plainview TX customers love, but along with affordable price points that meet a range of budgets, we prioritize on-time delivery, flexible scheduling, and helpful customer support. We understand the importance of keeping a development site on track and waste-free, so partner with a company that cares about the success of your upcoming project just as much as you do. Call us today at (806) 778-1311 to see what we can do for your next construction site project.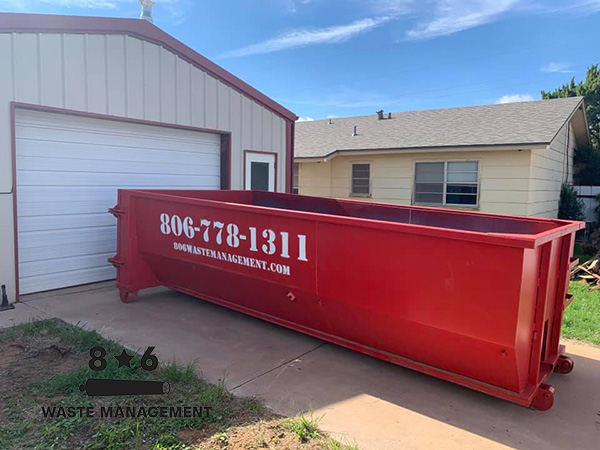 We offer a wide range of roll off dumpster rental Plainview TX contractors depend on to make their construction site more efficient and safe. Our durable and heavy-duty roll offs are built to haul a range of bulky construction materials including lumber, drywall, shingles, plastic, piping, and more. To help clean up and speed up the process, rent a dumpster with us today!

Commercial Plainview Dumpster Business Owners

When choosing one of our Plainview dumpster selections for your commercial needs, you're choosing a company that puts you and your business first. We regularly partner with office parks, hotels, apartment complexes, residential living facilities, restaurants, retail shops, and other commercial locations to ensure their short or long-term waste is managed in a timely, affordable, and efficient manner.

We have numerous sizes of dumpsters that can help remove your waste in no time. Whether you're doing a full business cleanout, managing a foreclosure, or are searching for ongoing waste management support, we have a dumpster for you. Our easy-loading dumpsters makes the process quick so you can remove your junk and continue on about your day in no time. Browse our website to see what we can do to haul off your trash today.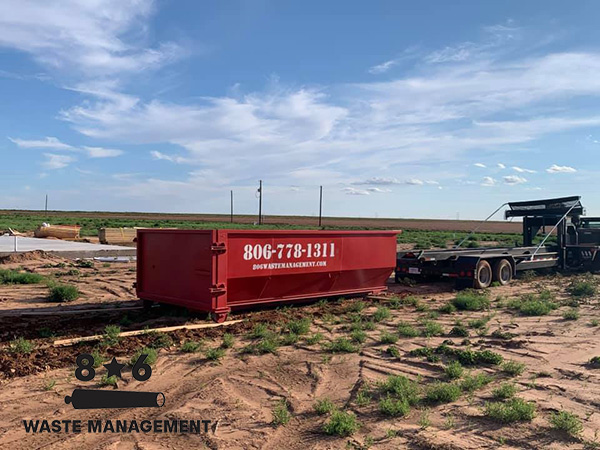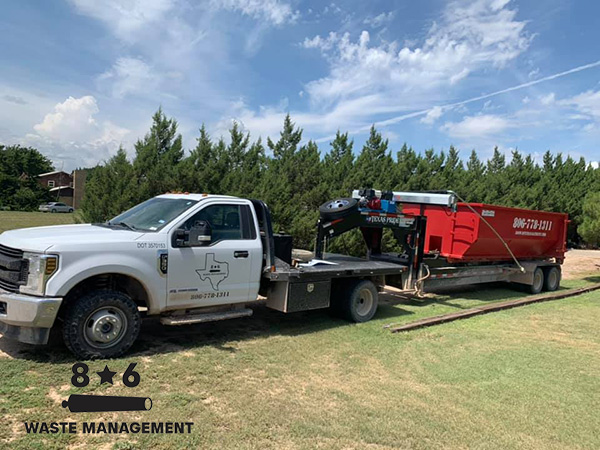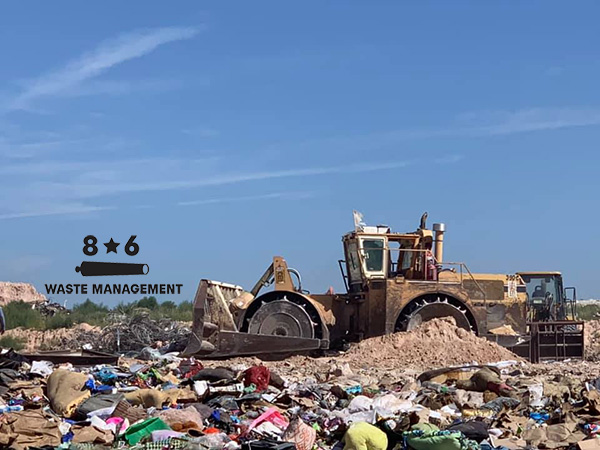 Roofing Roll Off Dumpster Rental Plainview

When choosing a roofing roll off dumpster rental Plainview construction professionals can trust, you need to choose a company that can provide you with durable trash bins that can handle the various materials that come with any scale or scope of a project. 806 Waste Management has the best dumpsters for a range of outdoor projects. We carry a range of size options that are built to haul away shingles, lumber, tiles, nails, plastic, and an assortment of other construction waste.

You can't rely on any old dumpster to handle those bulky roofing materials in a safe and convenient way. Whether you have a small residential repair job or a large commercial build-out or replacement, we have a dumpster that can handle it. Let's get your roll off booked today so you can focus on the more important aspects of your work site. View our options on our "Dumpster Rental" page and reserve your roll off today!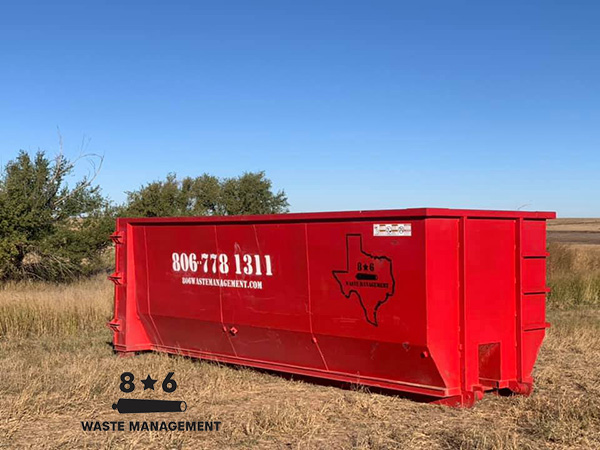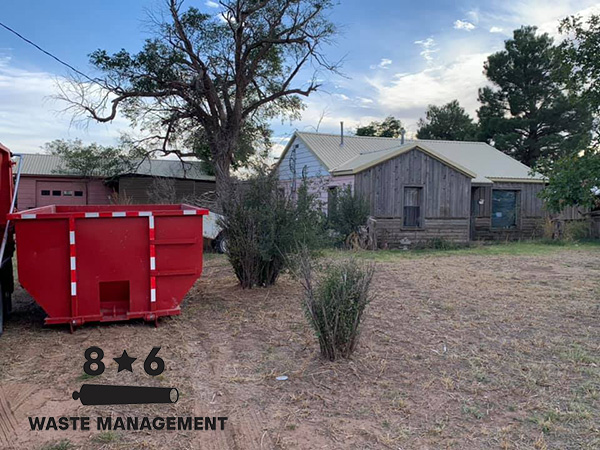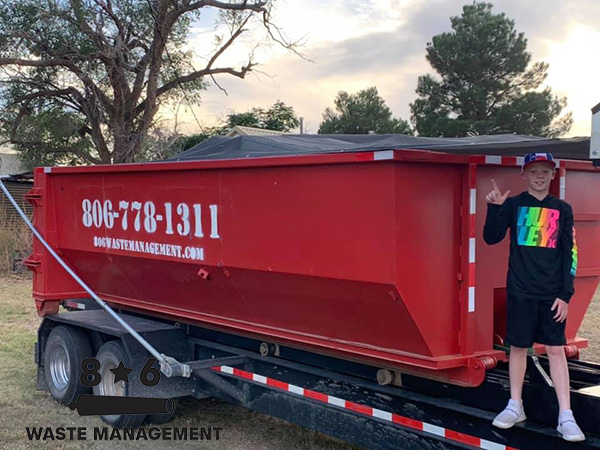 How to Book Our Roll Off Dumpsters Plainview TX Uses for All Projects

Are you ready to book the best roll off dumpsters Plainview TX has to offer? Booking with us is an easy and convenient process from start to finish. Our online booking system is user-friendly so that any residential or commercial customer will have no problems reserving a container in minutes. The best part is that it's available 24/7 which means you can rent a roll off dumpster in Plainview TX at a time and place that works best for you.

When scheduling your roll off dumpsters Plainview TX chooses for a wide range of projects, the process is simple with 806 Waste Management. Simply click the big red "Book Now" button in the top right corner of our website to get started. This will bring you to a page where you can review all the specific details of our dumpster choices. Once you've selected a dumpster, click the red "Book Now" button next to the size that works best for your project. Then click the red "Add to Cart" button and input your dumpster service type.

Once you click continue and choose your dumpster rental dates, a screen will come up with your grand total. Click the red "Check Out" button to then fill out detailed contact and delivery information about your preferred dumpster placement. Once you fill out your billing information on our secure website and place your order, the dumpster is yours! You'll receive a confirmation email from our team with a copy of your delivery date, rental period, and a receipt. We will deliver your dumpster on your chosen dates and all you have to do is fill it up, give us a call, and then we will haul it away. Renting a dumpster is that easy when you choose our team of experts!


Sizes and Prices for our Roll Off Dumpster Plainview, TX Chooses Over and Over Again
We offer the most affordable and reliable roll off dumpster Plainview, TX has to offer. We understand how important it is to remove waste the right way, which is why we try to keep our prices affordable and reasonable for our customers. You don't need to break the bank to rent an efficient and reliable roll off container. We keep dumpster rental cost Plainview TX low and standards high! Take a look at our selection of sizes below and rent your container today.

15 Yard: Our small dumpster rental Plainview TX homeowners and individuals regularly book is a 15 yard dumpster. This dumpster can hold 6x pickup truck loads and is great for smaller renovation projects or yard clean-up. The height of the dumpster is only 4.5 feet which makes it incredibly easy to load your waste! With a rental time of up to seven days, this dumpster can be rented at a low price of $325. It includes two tons and additional rental days are available. Great for hauling off broken furniture, renovating a bathroom, or decluttering the garage!

20 Yard: When a 15 yard dumpster is a little too small, consider our 20 yard dumpster. This roll off is equipped to handle a little bit more waste. It can hold 8x pickup truck loads and is great for smaller construction site projects and multi-room renovations. This dumpster has efficient loading capabilities and can be rented for up to seven days at only $325. This is one of the most affordable dumpster rental Plainview TX has to offer! It includes two tons and additional rental days are available. Ideal for larger renovation projects for homeowners or for commercial jobs!

30 Yard: For those big projects with excessive amounts of waste to haul away, we suggest you try our large dumpster rental Plainview TX contractors can't get enough of. Our 30 yard dumpster is a large and durable bin designed to handle just about any project. It is perfect for large construction sites, commercial cleanouts, and big renovation projects. This dumpster has a rental time of up to seven days and can be rented for only $450. Additional rental days are available and two tons are also included.

If you'd like to request a custom quote for a roll off dumpster Plainview, TX homeowners, contractors, and business owners rely on to get the job done right the first time, give our team a call at (806) 778-1311 to discuss your options and get your container booked today!
Why Choose Us For Your Roll Off Dumpster Plainview
Local residents, business owners, and construction professionals consider us their #1 choice for a roll off dumpster Plainview can depend on. When you trust us with your waste removal needs, you can rest assured you'll receive your dumpster on time and that our team will be here for you should you have any questions throughout the process. Our customers know that when they use 806 Waste Management, everything is taken care of from start to finish.

We value our customers and their time, which is why we are committed to a quick and easy dumpster rental process. We partner with industry-leading reputable manufacturers and carry the best in durable, heavy-duty, reliable containers for all project types. As a fully licensed and insured locally owned business, it's always our top priority to keep our customers, drivers, and employees safe throughout the rental process, so we take all necessary precautions to ensure containers are managed in a responsible and secure way.

Learn why we've earned 5-star reviews and the repeated business of hundreds of our customers over the years by browsing our website and scheduling your container rental with our team of specialists today!
Providing Dumpster Services Plainview, TX Communities Use to Surrounding Areas
If you are looking for dumpster services Plainview, TX communities can depend on, consider 806 Waste Management to take care of the job. Our goal is to make your dumpster rental process so easy, that you won't even think twice the next time you need a roll off rental. In Hale County, we proudly service the following zip codes: 79072 and 79073.

Part of our waste management strategy is caring for the community. The Plainview Independent School District campuses should be clean and waste-free environments, as well as local parks, retail shopping centers, neighborhoods, and office spaces. That's where we come in. We are committed to keeping Hale County waste-free by disposing of trash properly in a prompt and professional manner.

We're happy to offer delivery and pick up to Lubbock, Levelland, Brownfield, Post, Lamesa, and all areas in between. If you don't see your zip code or city listed, don't give up just yet. Give us a call and let us know because we frequently deliver to areas even farther out and special accommodations can sometimes be made to help you rent a dumpster in Plainview TX with a team you can trust.
Unveiling Local Gems and Community Highlights in Plainview, TX
Plainview, Texas, is a welcoming community with its own unique charm and local treasures. Let's explore some of the local favorites that truly define the heart of this wonderful town.

For a journey into the town's history, make sure to visit the Plainview-Old City Hall. This historic building has been beautifully restored and now houses a museum that showcases the rich heritage of Plainview. From exhibits on the town's founding to displays highlighting its agricultural roots, it offers a captivating glimpse into the past.

Another beloved spot is the Llano Estacado Museum, where you can immerse yourself in the cultural heritage of the region. With a vast collection of artifacts, photographs, and interactive exhibits, the museum beautifully captures the essence of Plainview and the surrounding area.

Running Water Draw Park is a true gem that offers picturesque landscapes and outdoor recreational opportunities. Whether you're looking to take a leisurely stroll along the trails, have a family picnic, or enjoy fishing in the scenic lake, this park provides a tranquil escape for nature lovers.


Indulging in the Local Flavors of Lubbock, Texas
Plainview's culinary scene is brimming with locally-owned restaurants that pride themselves on serving up delicious flavors and warm hospitality. Here are a few noteworthy establishments:

Uncle Buck's Fishbowl and Grill offers a unique dining experience with its eclectic atmosphere resembling an underwater wonderland. Enjoy delectable seafood dishes and savor the lively ambiance while bowling on one of their themed lanes.

Lupe's Mexican Restaurant is a beloved eatery that tantalizes taste buds with authentic Mexican cuisine. From flavorful tacos to mouthwatering enchiladas, their menu boasts a wide range of dishes that showcase the vibrant flavors of Mexico.

The Broadway Brew is a cozy café that delights coffee aficionados with its selection of artisanal coffees and freshly baked pastries. It's the perfect spot to start your day or enjoy a relaxing afternoon break while soaking in the local charm.


Connecting with the Community: A Proud Member of Plainview, TX
At 806 Waste Management, we take immense pride in being a part of the Plainview community. We cherish the opportunity to serve our neighbors and contribute to the growth and well-being of this wonderful town. Our commitment extends beyond providing exceptional dumpster rental services; we strive to be actively involved and support local initiatives that make Plainview a vibrant place to live, work, and play.

FAQs About our Roll Off Containers Plainview Chooses for Residential or Commercial Use
If you have questions, we have answers! We understand there are many factors to consider when booking roll off containers Brownfield can depend on, so we've compiled a few of our frequently asked questions to help you make an informed decision on the best roll off for your project.
Q.
How much does it cost to rent a container?
A.
The price of our rentals varies based on the container size, rental period, and amount of waste being hauled away. Our 15 yard begins at $325 for up to seven days and two tons included while our largest 30 yard begins at $450 for up to seven days and four tons of weight included. Additional days and tonnage are available for purchase as well. We're confident we have the most cost-effective waste disposal solutions for your residential and commercial needs.
Q.
What can be hauled away in the roll off?
A.
Just about anything! We accept refrigerators, mattresses, construction waste, appliances, yard waste, furniture, hot tubs, and general garbage. We cannot accept hazardous materials including asbestos, gasoline, paints, moto oils, or medical waste, as well as batteries and car tires. If you have any questions about if what you need to dispose of is considered hazardous, please feel free to contact us with any questions.
Q.
How do I book a container with your company?
A.
Renting roll off containers Plainview rates 5-stars is a simple process! Just click on the big red "Book Now" button at the top right corner of our website to view your rental size options. Choose the best size for your project and click the red "Book Now" button under the price. Then click the red "Add to Cart" button to fill out contact and delivery information and check out using our secure system and any major credit cards. You can also book by giving us a call at (806) 778-1311 to speak with one of our team members directly!
We Take Just About Everything
Some examples of the junk we haul away include
Refrigerator Disposal

Garbage Removal

Mattress Disposal

Foreclosure Clean Outs
Construction Waste Removal

Yard Waste Removal

Trash Removal

Appliance Removal
Television Disposal & Recycling

Furniture Removal

E-Waste Disposal

Hot Tub Disposal
Amazing Reviews for Our Dumpster Services Plainview TX
When local residents look for excellent dumpster services Plainview TX has to offer, they quickly turn to us. With our easy-to-use online booking system, you can order a bin anytime you want, all on your own schedule. When you work with 806 Waste Management, you know the job will be taken care of in an efficient, convenient, and affordable manner. For all of your residential, commercial, or construction needs, choose our team of roll off professionals.

We enjoy hearing about our customers' positive rental experiences with us. We take pride in knowing that our customers are happy with their choice. We want to share a few testimonials from some of our happy customers about their experiences with us: